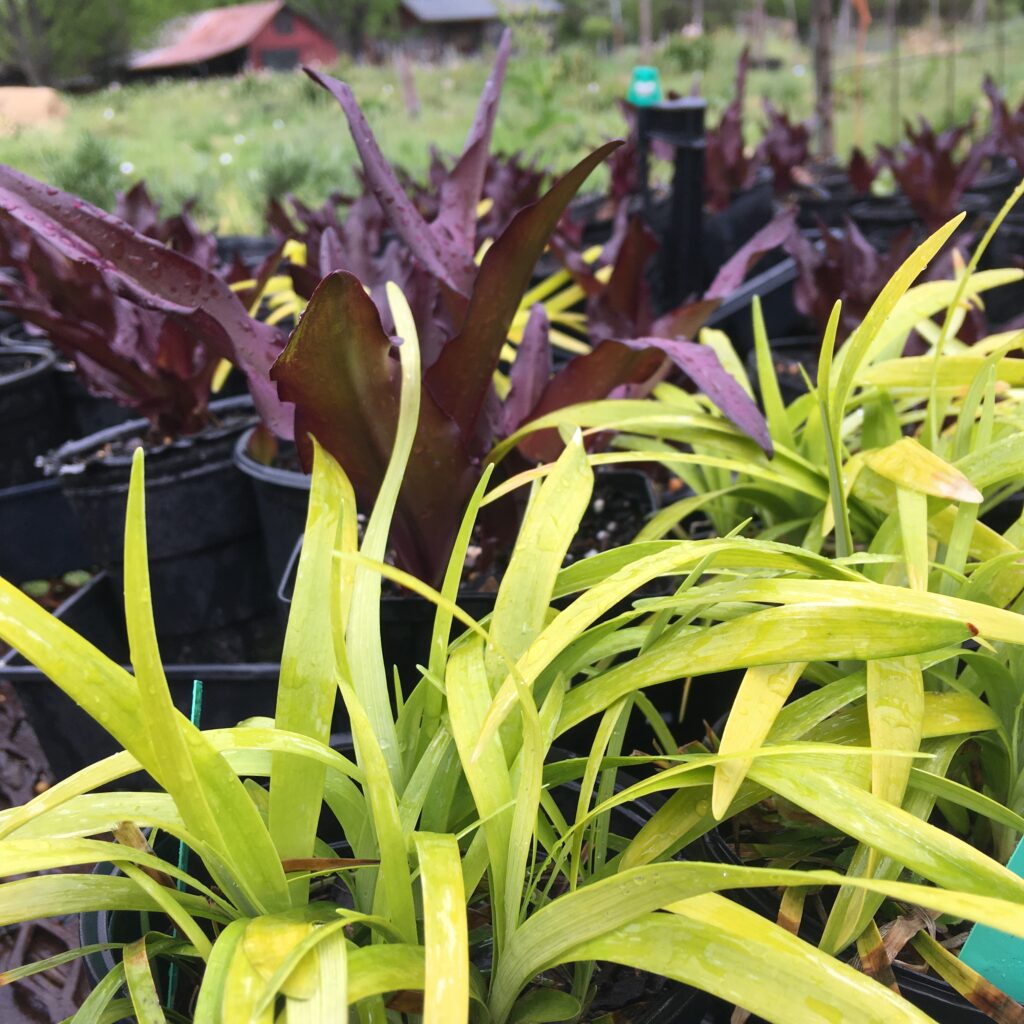 Pineapple Lily; A Thoroughly Modern Bulb with a Quirky History
GARDEN STYLES
It's the easiest of summer bulbs to fit into any landscape or garden. Pineapple lilies grow readily, make great cut flowers and you can propagate them yourself from leaf cuttings.
Alone or featured in a pot, it's modern and architectural. A long row of burgundy leaves against a stark white wall fits into a mid-century modern vibe. Or a single clump of the apple green towers of flowers (the one called Tugela Jade) planted in a glazed cobalt pot makes a living sculpture. 
A pot of pineapple lilies can even be taken in the house. Victorian's loved this style and Toviah Martin, in The Unexpected House Plant says, "pineapple lilies are absolutely apropos for mixed containers" and, "worthy of centerfold status.'
In flowery perennial gardens, they mix with little phlox and even pink whisky begonias.
In an unconventional planting, I made a Southern meadow — native azaleas brought spring color, longleaf pine seedlings brought texture, broom straw fall bronze and pineapple lilies became summer fireworks.  Their foliage looked great even after flowers faded. Which by the way takes about 8 weeks — that's one long-lived flower. Honestly, this only seems unconventional because we think of pineapple lilies as garden plants.
But garden plants come from the wild. In the wild, pineapple lilies grow in South African meadows among grasses and wildflowers. Like most plants, some species grow just about anywhere; wet areas, dry, sunny or shady. While some are more habitat-specific and thrive in wet seeps and open rocky areas only. 
Understanding a bit of which grows where in the wild helps us to know which species thrive in deep South gardens. I've been tempted by the tiny ones with cute names like Spotted Octopus and vowel-less names honoring Affrickaner botanists. Eucomis vandermerwei dwindled away for me over and over.
Today, I stick with species of Eucomis commosa or Eucomis bicolor.  Back in the '80s a few new cultivars hit the market bringing joyful burgundy leaves. 'Sparkling Burgundy', still a favorite, feels a bit like a comfortable old friend. 
PLANTING COMPACT & COLORFUL NEW CULTIVARS 
Today, new cultivars offer tighter, denser flowers.  Which means they don't flop over at all. That makes them perfect for smaller spaces and containers.  
It also means they make spectacular cut flowers. In fact, lots of the sexy new cultivars of today, 'Coco', 'Maraschino Cherry' and many others, were developed for the cut flower industry.  Not only did breeders tighten up the stalks but they bred out the unpleasant fragrance that some species, like Eucomis foetidus used to have. Notice all the new names evoke some nice fragrance.
While we haven't trialed the slew of new cultivars, a few have been amazing in our Zone 8b field trials.  Both for garden plants and for our own use as cut flowers.  The bulbs are cold hardy in gardens down to about 20 F. 
We simple plant about three inches deep in regular, unirrigated soil. They'll take irrigation, but we just don't use it.  Planted in March (you can plant anytime) bare root bulbs push up by April, showing off their handsome fleshy leaves.  They look like monkey grass on steroids.  We always overplant with something else — last year we planted burgundy 'Coco' with cardinal-red salvia.  It'd be super cool with golden Liriope 'PeeDee Ingot' too.
HISTORY
Long famed in horticulture, first displayed at the Chelsea flower show in 1760. An amateur French botanist first described the African plants to Europeans. He sketched, wrote, and sold a little book about his travels. 
Early botanists noted that Tswanas people used tea from the plant as medicine. The sapo-glucoside chemical can be boiled out of the plant but not to worry, you have to work hard to get the chemical and it is not absorbed from digestion or skin but toxic if injected intravenously.
PROPAGATION
I haven't tried any of that. But one simple and surprising pineapple leaf trick involves propagation. If you want a bunch of these, you can easily root the leaves. You'll have plantable bulbs in about a year. In mid-summer, we cut 2-inch leaf sections and stick them n sand, outside. Keep moist but not wet. In 8 weeks, you'll see little roots (if you pull them up which you shouldn't really do) In late summer, you'll see little shoots. Leave them in place. Next May, pull up and you'll have marble-sized bulbs.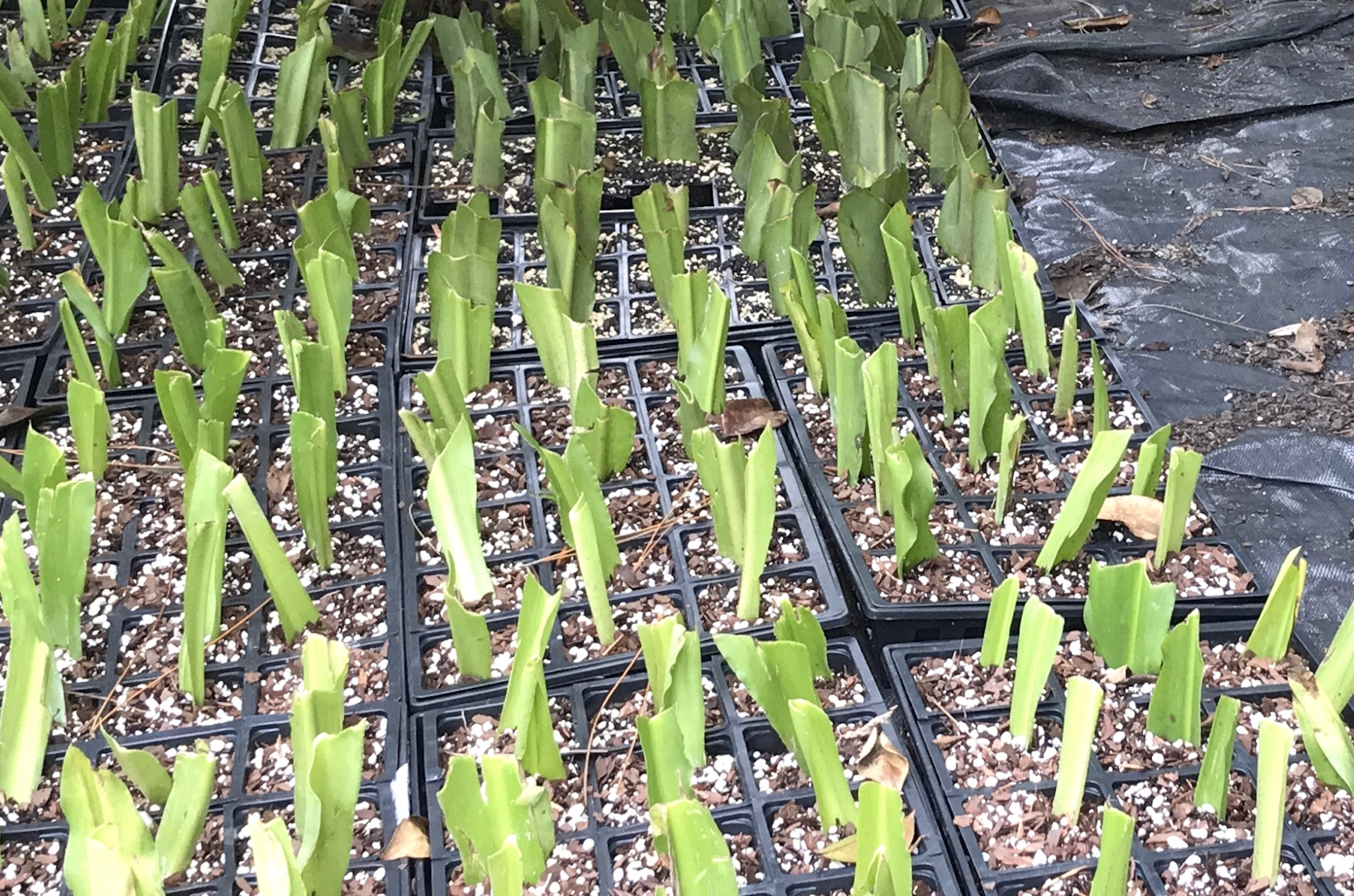 For all the pleasure, with the simple propagation and sure to grow bulbs, pineapple lily makes a great garden value.  Monsieur L'Heritier de Brutelle, described as "a dry, acrimonious man, his table frugal and his clothes simple," wrote a little book. L'Herit as he's known would be astounded by the modern price of his book. And I bet he'd be proud of you investing in pineapple lilies; they just get better, and more valuable, with time.
We Offer Three Tested, Amazing New Cultivars of Pineapple Lily bulbs and we ship only top-size, fresh bulbs.Order Now.