Jenks's latest book, Deep-Rooted Wisdom, is a critically-acclaimed keepsake. Read more below and get yours today!
"Don't just pick this up as a gardening guide; as you pick this man's amazing brain, and read between the lines for glimpses of his wry humor… feel his loving heart as well."
Fleder Rushing, one of America's most respected gardeners and founder of the Slow Gardening movement
Gardening used to be simple. It used to be a sincere and meaningful part of life. It was done to feed the body and soul, to get in touch with yourself and the earth. But it's changed rapidly and drastically over time.
Nowadays, gardening has become stylistically competitive. It's been whittled down to a marketing tactic, a shopping experience. And this change has had drastic effects on our planet, including contributing to the problems of pollution and resource waste. 
This book is a plea for us to take gardening back from the marketing companies and to return to traditional-organic gardening, told through stories of old gardeners, farmers, and country people.
Building on old-school lessons, Jenks Farmer weaves stories from wise gardeners with the most modern science and artful design toward gardening and living more gently for the earth and ourselves.
Each chapter of this book is organized into four sections. First, Jenks introduces two experienced gardeners - their homes as well as a specific lesson to be learned from them. Second, through narrative, he analyzes the history behind that lesson, including how modern horticulture deals with it. Third, Jenks describes how he's merged old and new on his own farm, in various botanical gardens, and in private landscapes. He also shows how these methods can work for anyone. Finally, each chapter ends with a contribution from a nationally known gardener explaining how he or she sees the topic at hand.
Most of Jenks's gardener mentors interviewed in the book are self-taught, dirty-handed gardeners and include Ruth Knopf, Francis Parker, David Haskell, Linda Proffitt, Jim Martin, and Ryan Gainey.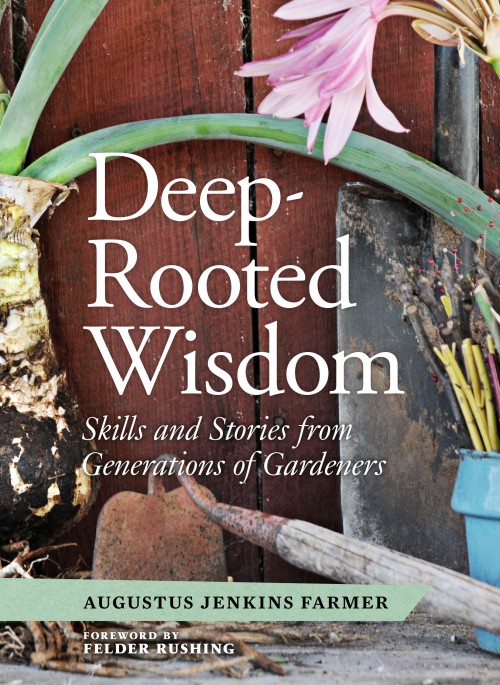 Want to learn more? Explore the images below for a sneak-peek at what topics Deep-Rooted Wisdom explores: