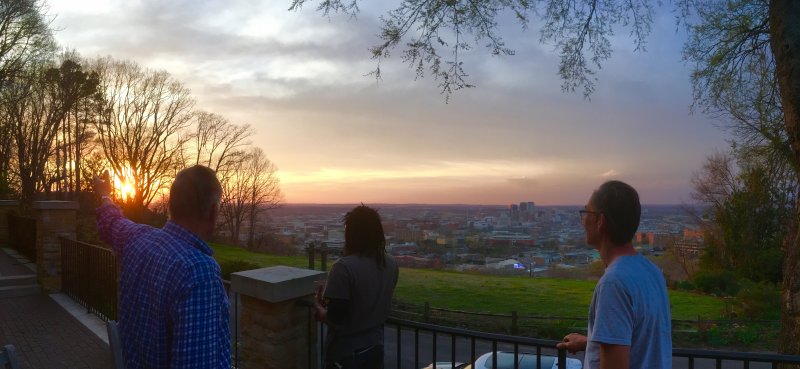 Crash Course in Historic Gardens of Birmingham

In the 1920's, architecture and gardens changed as some people, rich people, began to incorporate modern conveniences into house and gardens of traditional styles.
In Columbia, an entrepreneur built his dream house. It's in a style that was popular in more industrial cities and in England.  It was of a style that looked a bit like Tudor houses. An accepted descriptor of this mixed style is Tudor Revival but some people called it Stockbroker Tudor.
We've been asked to design a garden for this house. As Columbia wasn't a booming town of new wealth, the style isn't prevelant here. In other towns, richer towns like the industrialized, steel town of Birmingham, the garden would have been part of the original plans. Extensive gardens, even live in gardeners were the norm. In fact, one of England's most famous garden designers, Gertrude Jeckyl , worked hand in hand with architect Edwin Lutyens, who designed grand homes of similar style.
But we have a bit of challenge designing for this style. You see, in South Carolina, there wasn't enough money at the time to include original gardens. The few people building giant, stylish houses, put all their money into the house. The project we're working on had a garden, but not the kind that would have been built in richer cities. Also we're working with a modern family, so even more modern conveniences must be included — without seeming out of character.
So, we need a crash course in garden architecture of the late 1920's Tudor revival style.  What's the stone work look like? How do we get that Indiana limestone today? Mr. Hubble will figure all that out.  He'll take this truck and trailer to Indiana for a load of the right stuff. Who else would do that?
Tom, Gerald and I are in the truck, headed to a place where that style was rocking in the 20's, a town that was booming then; Birmingham Alabama.
We're primed with a book called Remembered Past, Discovered Future; The Alabama Architecture of Warren, Knight & Davis 1906-1961. If you ever stayed at the University of South's, the old Suwanee Inn, you've stayed in a place of this style, designed in this style, by these guys.

We get to spend a night in one of these houses, then have a garden tour of five of the best examples; accompanied by a garden designer who cares for them and an architectural historian who'll work on the project in Columbia with us.
What makes this time special in garden history? The same thing that makes it special in architecture; modern convinces such as electricity, plumbing, steel structural supports were being incorporated into gardens for the first time.
I like to break the rules of garden design; to push forward. But I also love the challenge of delving into history, figuring out how to use the best bits, (and not ruthlessly chunking the dumb bits) and making a modern garden based on deep rooted wisdom!
Watch the photo gallery below and we'll post pictures of these five amazing homes and gardens over the next few days!
[Not a valid template]