Serial Internships & Old Dorm Stories
You know how they have classes for college freshmen intended to weed out the slackers? Well, back then, I was a self weeder.  After an academically embarrassing freshman year, I left Clemson to do an internship with the Greenery on Hilton Head Island; spraying all the chemicals it takes to keep that fantasy world green.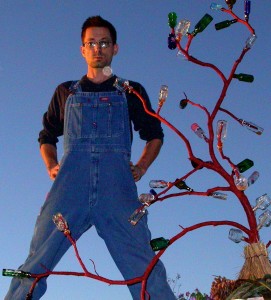 I self weeded from that job too.  Actually, my boss, Clay, helped me realize that mow and blow landscaping simply wasn't for me.  Internship are supposed to help define young people in such ways.  This was actually the second time Clay had directed me in an important way.  The first was during that self weeding-full freshmen year. Clay had been my dorm R.A. in college.  An R.A. is like a scout leader for freshmen.  Sounds old fashioned, I know. But it was a long time ago and the dorm was pretty old fashioned too. A tin box, former military barrack complete with built in riffle racks and gang showers for 20 men. Though still a bond forming building, discipline and precision were long gone; the 70s and 80s turned the place into a roach infested, bad-habit-making party dorm for country boys.
At the end of our first semester, R.A. Clay pulled all the guys together and threatened to take away the thing we loved most; each other "Next semester, the Housing Administration will make you all move, scatter you across campus. As a group, yall have the achieved lowest combined GPA of any hall, in any dorm, ever on Clemson's campus."  This was how Clay changed my life for the first time.  He pulled me aside, told me to straighten up, drop my management major and switch to his major, horticulture, which I did though at the time, I thought it had to do with growing plants under the ocean in  Sponge Bob-like bubble greenhouses. Embarrassing.
Clay graduated and got a good job on Hilton Head and I followed as an intern.  Demonstrating great management skills a second time, he tried to keep me stimulated but recognized that mow-and-blow wasn't for me and wished me well as I moved on to be the first intern at Riverbanks Zoo.  I became a serial interner.  Riverbanks led me to Zoo Atlanta, then on to a private estate, ultimately to the University of Zambia.  Internships defined a solid, still solid, goal of working in public horticulture and I've been lucky to establish internships programs in three different public gardens.
But now, running our farm and design business, with scant resources, I've been without interns for a while.  Our farm fella's are great but I miss sharing with young people who really love plants.  Tom and I both like to share our knowledge and lives; we strive to have a company that does the right things. Interships are a big commitment of money*, time and personal energy.  Especially on our little farm, it can be like bringing in a new family member.
Meet Isaac Kirwan, 19, from Greenville, SC.  Isaac is a freshman, but on his way to achieving his goals of being a landscape architect specialized in green roofs in Chicago.  But first, he has lots of college and internship exploration to do.  Isaac will move into our Bohemian Barn next summer, help run the lily fields, completes a special project, work on garden designs, go on book signing trips and learn which parts of horticulture he loves, which bore him.  He'll do a lot of weeding.  Crinum ,vegetable, pasture and shrub weeding too.  In an upcoming blog, Isaac will tell you why he's willing to leave school, family, friends and put his current job in Greenville for a few months of internship with us.
Isaac and I met at a presentation by Fergus Garret of Great Dixter.  Isaac's presence at a lecture by about a place that's influenced modern trends in design, color and planting styles maybe more than any other British garden showed interest and motivation.  Isaac, a student in one of South Carolina's best horticulture programs got my attention by simply looking like a creative guy.  I've mentioned our internship to tons of students this summer and fall; he was the first to call, then drove 2 and half hours for an interview.
Though I've hired about 40 interns over the years, this time it's different.   First, Isaac will live on the farm.  Second, to alleviate some of the getting-to-know each other phase and to take advantage of technology, Isaac will be able to follow and participate in winter projects.   He's already included in design emails with clients and he'll blog some too.
It's a whole different world in dorm life, in horticulture school from my Clemson days.  There are new technologies, such as smart irrigation and even whole new sciences for students to learn.  Tom and I look forward to learning from Isaac, what a horticulture student, who's weeding and wading through the prospects of modern horticulture, learns to integrate this new world, with the oldest skills of caring for the earth.
* I worked my way through college with part time jobs and internships I found housing, paid bills, keeping up a bar tab in some of the most expensive places in the South.  Once I lived in a tent. I could never have done an unpaid internship.  I'm glad they work for some people, but I believe they should be paid so Tom and I started planning a year ahead to fund our position.