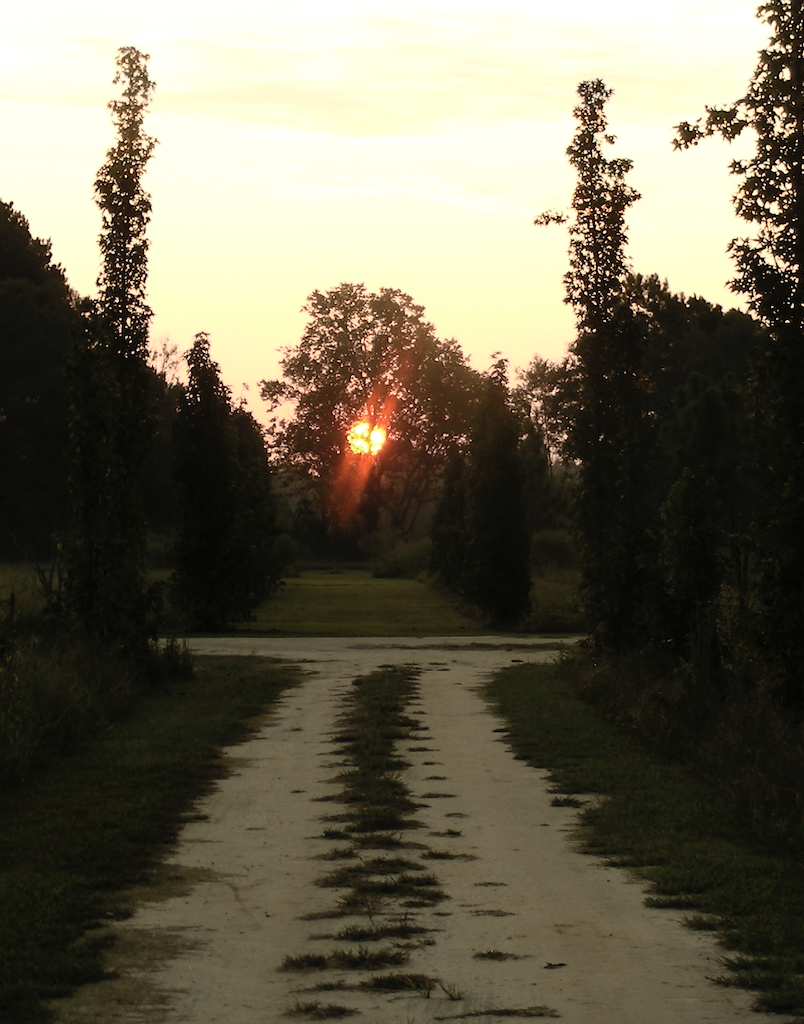 Shadow & Light in The Garden
We can feel the heat but the crepe myrtle allee protects us like a cave. Low droopy branches make it dark in here. Stifling but better than roasting under the sun out there. Weeding and pulling up the deflated caladiums that survived the drought, it's just three of us in the crepe cave. Three guys, all plant lovers, all devoted to the botanical garden, all 20 years apart. I think of Farrah Faucett and that big merry-go-round of death in Logan's Run. Random thoughts while gardening.
The new guy, AshevilleAndy the crew calls him, 20, usually talks while we work. Sensitive and sincerely trying to be cool with me, the oldest, the boss. Normally, I say something like "I was either planning or planting these trees while you were busy nursing." Then he'd go on about the cycles of life and say how he'd like to do that again. But on this hot day, he's figured out that I'm not gonna say anything about his banned-by-the-safety committee earbuds. Will is 8 trees away like he always is. About 40, introspective and always away from the garden crew chatter. Will, like the alert dad he is, tracks everyone, everything, even garden visitors. Not that anyone buys tickets to stroll and roast in the mid-September garden.
Most days I like gardening talk. With hands and mind focused on plants and dirt, conversation can be unguarded, unplanned. Connecting. This afternoon the unspoken consensus that being in our heads seems the best way through the sweat drips, smudgy glasses, gnats, and crepe bark bits that stick like Velcro to wet shirts. At 60, I've had a lot of garden talk. I like it but I like the zen of private random garden thoughts too. I look up out of the cave, into the white, beyond into more deep shade, and recall working in Lowcountry Olmstead garden where Ben taught me how the famed designer of parks used sun and shade patterns to create shady enclaves, separated by sunny glades. Isolated but connected.
I stand; roll my t-shirt up to dry my face and clean my glasses. Eyes closed, I peek through the crepe cave, over sunny fountain gardens, past the pine curtain, glimpse the shimmering cars in the lot, skim over the wisteria-covered chain link fence, zoom through the neighborhood's towering pines, into a basket weave brick breezeway and into the too-chilly, too-bright nursing home, where Ben lies dying.
Ben, over 80 now, landscaped that very nursing home back in the 60s when his business was in full swing. He was kind of lonely after he retired and I was new to town. He's shown me every landscape he'd been proud of as well as the ones that failed, where just one special tree survives. Him reminiscing, me taking pictures and notes in my breast pocket notebook. We'd spent humid Saturday mornings going to country nurseries and dreaming about the new botanical garden. Now he lay in that clean, chilly room. At least from there, he had a view of the yellow berried yaupon grove — trees he'd rooted from the swamp.
There's another chill in there too. His family. All nieces who don't think much of me. One of them, a CPA at First Baptist, probably thinks there's something kinky between us or that I'm trying to get him to leave an endowment for the garden instead of the church. They never asked their old bachelor uncle why he was a bachelor or why he hung out with a young gardener during the last decades of his life. They know what they don't want to know. I try to be compassionate; they're protecting him, circling around, closing camp. But they don't, won't, welcome me into that room when the time comes. Except for one.
Birds don't sing in the heat but a hawk's shrill CChhschweech made me look up just as she walked into the sunlight by the fountain garden. Right then. Right when I thought about her, right when smudged but cleaner-than-they-were glasses went back over my eyes. Mignonette? Must be a mirage. With her white shirt-dress, by bright fountains, she was gleaming under harsh sun. And scanning for me. She can't see into the crepe cave. I step out. She doesn't wave, just starts walking toward me, looking at me. Walking. Floating. All that white blurring in the sun like an action shot. Too much for eyes to really register. An action shot but somehow also slow motion. I know why she's here.
Mignonette, the favorite niece who visits from Chapel Hill. The enlightened one. The only one who made a point of coming by the garden with Ben twice a year to see what the old man loved. Smiles at our secret jargon, Ben and I used only Latin names. No questions, no suspicion just eyes that said, I'm happy 'cause yall are happy. And there they were. Those big brown eyes locked with mine and lips about to kiss my dirty face. No tears. After the blur of her eyes and coconut-scented hair she stepped back and smiled a bit, I brushed my crepe crumbs off her white breast. She said, 'We need to help him go easily, do you know anyone?'
"Yeah, I do. Right here. Give me ten minutes."
She backed into the sun and I watched her cross into the Parrotia grove while I thought of how to do this. I just watched and thought, does she know what a good choice she's just made? She could have stayed in the crepe cave. But no she headed for the Parrotia grove. Strong and lithe trunks, a high, happy canopy of leaves that catch a breeze, they, she, complement each other more than did bland, blond crepe trunks and their heavy, sad, cloistering canopy. It's like some art photo.
Her lean tan shoulder and arm reaching up to muscled greenish branch, straight dark hair flowing downward, mottled with gray exactly the color of the camo bark on the trees. A simple white dress and few scarlet leaves turning in September drought.
AshevilleAndy stepped up. I knew he could help. I knew he wanted to connect but it's tough for a boss to ask a young employee for pot. And there would be too many words. It'd be like dealing with an enthusiastic child or a puppy who wouldn't quit licking. I step past and walked on up the allee, crunch crepe berries under my boots. I'd known Will since he was a high school dealer. He'd already read the whole situation. 'Ben?'
'Yeah, she wants to take him something.'
From his backpack, he pulled a little notebook, not his breast pocket garden notebook that he said was my best ever lesson to him, but handsome leather-bound one with wrap-around straps. Page by page, he tried to hand it to me, pages with little dark spots, dry leaves or charcoal smudges each with Will's nice handwriting under each. I'd never seen this before. I had no idea. A catalog of flavors and feeling. I put a hand on his chest, looked down, and said 'Just pick it and make the call.' He sent a text. I don't know why but watching him send that text, all composed and competent, brought the tears. Glasses off again, I step into the sun, wiping, eyes confused, watery, and constricting in the blinding garden and I think I heard Will call out, "Seed is better than leaf." What does that mean?
Mignonette's eyes said something like 'thanks, you know he may want it, don't be surprised if he really just wants us. We walked through the fountain gardens quickly; a big drip rolled down my face. She started to glisten. Into the high shade of the pine forest, down the hill, Mignonette and me, toward the parking lot, I see from here the heat waves off the pavement, a mirage of a lake in the middle of the asphalt.
That blazing lot is totally enclosed by a chain-link fence. When they first built it for staff and volunteer parking, we called it the goat pen. Asphalt rectangle surrounded by chain link, a raw ditch, and more asphalt of neighborhood roads on all sides. We'd planted the enclosing fence with wisteria to create a fast ten-foot tall, impenetrable wall of wisteria. A dull-green curtain of coarse leaves with unruly wild tentacles. There was unexpected magic though. Early every summer velvet skinned, magic-marker-sized wisteria pods unfurl, two sides untwining from each other, causing tension that hurls flat tortoiseshell seeds out onto the parking lot where they landed in a wavy line like they'd been washed up and left by the tide on the asphalt beach. No one parked back there so the line went all the way across the back of the lot. There must be neighborhood boys walking the other side, a tune, whistling seems to be a thing now for high schoolers. Seed is better than leaf. A deep voice sings along. Dang, now I'm hearing things.
Today the back fence is different. An opening with a view through the dark hedge to a field of golden something, meadow weeds, or maybe golden tobacco where the road should be. Part of the mirage I thought but Mignonette was looking too. And I remembered Ben's lesson during some garden conversation, squatting, weeding, he said "Look up, back there. See the little gap I left in the hedge? Always leave a gap, a view through the hedge, or the wall, a little opening, a nice view to a field, a pasture, a wood, a part of nature — something you'll probably never walk into but in your mind, you want to go, you want to be a part of it." I'd used that little design trick a hundred times, constricting views, light, and shadow. Mignonette's looking at the same spot. The doorway in the wisteria wall. Where he stood now. Ben walked through, turned and looked at us, didn't wave, didn't smile, just looked at us before he walked away from us, through the shady opening, and into the bright field.
*A note: early one morning I had the vivid dream that you just read. I woke compelled to write it. Four days later I found out one of my mentors in Texas had died the night of the dream.
If you enjoy stories and lessons from a gardening life, you'll like our new book, Funky Little Flower Farm.