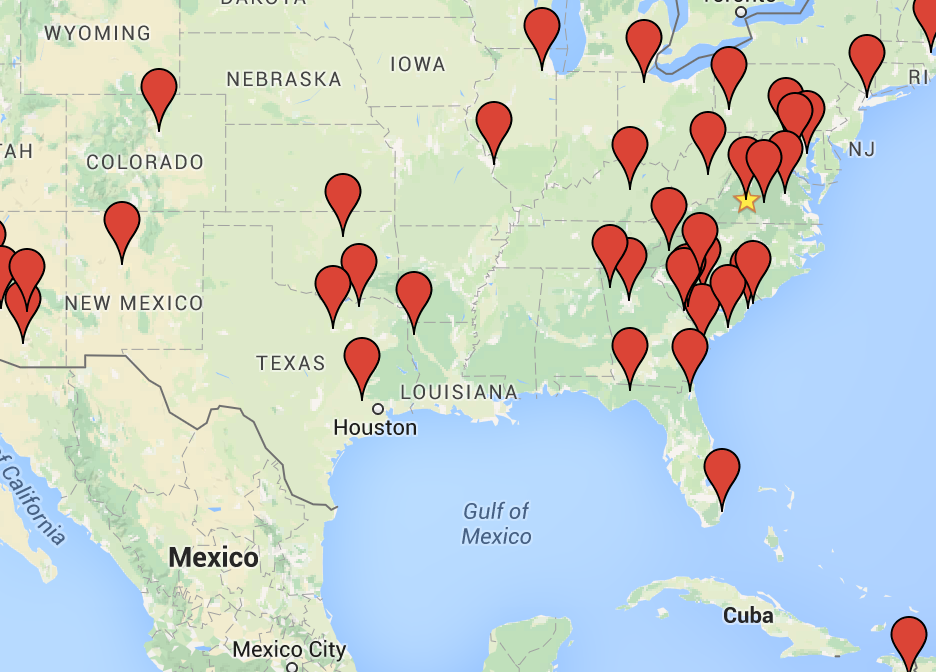 Where Do You Grow Crinum?
Let's build a Crinum map together!   Send pictures of your crinum lilies.  In the email subject line please type your city and state.   (Send your town even if you don't have pictures).
We'll mark your town and post the picture to our map of Crinum Lovers!  (Don't worry, we won't post your name or address or such.)
Zoom in below…..
Why Do This?  Well it's fun.  Kind of geeky, but fun to see where we crinum lovers live and grow. And it helps others discover these long-lived perennials.
As gardeners, designers and landscape architects you want to plant long-lived, good for the earth plants too.  But it's tough to know about longevity and stress tolerance.  Especially when we're talking about a plant that's hasn't been widely used.  Or a plant like Crinum, that's only recently been grown outside its traditional range.
So this map will help keep our plant pallet fresh.  And it challenges the preconceived ideas that we have about Crinum living only in the South.
We have Crinum in at least 25 of the 50 states!
As a society, designers and gardeners need long-lived plants, used in ways that don't eat up energy, chemicals or water. Help us make Crinum one of those!
How To Get Your Crinum on the Map.  Please send a picture and your town and state via email to [email protected]
(Please note; by sending a picture to above address you also give us your permission to use that picture and post that picture to our public google map.  We will not post your name, address or any other private information.)
For now, the map is for us but soon it will be on a page on our web site for everyone to see!