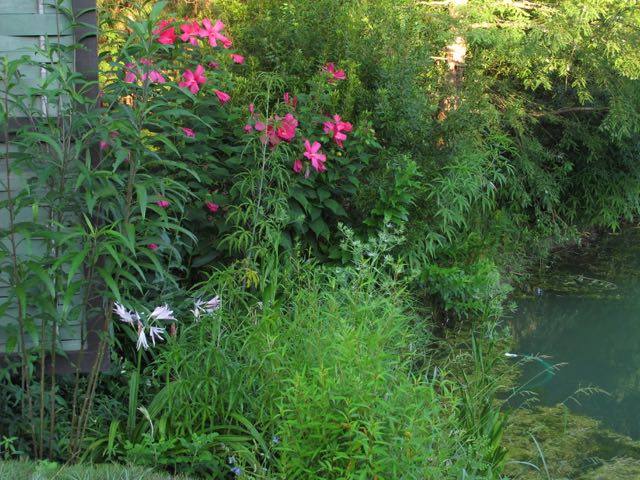 Plants for Deep South Meadows
You know those meadows that you see in magazines?  The ones that beckon pick-nickers with knee high whispering grasses and painterly masses of wildflowers?  The kind of meadow you might skip through, roll in, take off your shirt and nap with your dog in?
In the Deep South, we only have those in calendars and for just a moment in March.  But people here dream and even ask me to plant for them prairie-style meadows.  They ask me because I do lots of naturalistic plantings that are based on plant communities of the deep south. Next week, I'm trying again; planting a meadow of smallish plants. But for the most part, for many environmental reasons, meadows grow into chest deep oceans of grass and weeds. Beautiful but unruly places you're likely to loose a dog or a pick-nicker altogether.
I shouldn't make our over-your-head meadow sound so bad.  I love that they change drastically from season to season — starting small and delicate in March growth, becoming a new place by June then with summers heat, exploding to maximum meadow beauty by late Novembers first frost. And our big meadows result from our spectacular growing season, our rich soils, our productive, diverse environs; they are part of our story.
Some of my formative, cherished learning experiences were in big meadows, under power lines, where utility crews chop the plants down every few years. Willows, Southern Cane, Joe Pye Weed, even Clematis all come back with a vengeance after being chopped down.  They turn into big puffy plants that put me in an Alice In Wonderland state of mind. (In the distant past, this chopping of plants might have been done by lightening or herds of southeastern buffalo. Now, mostly right-of-way crews with tractors maintain our meadows.)
15 years ago, I got to create a 2-acre, planted approximation of this 'wild' ecological system.  I went big.  Head high hibiscus, towering silphium, giant gama grass and massive lespedeza made a dramatic summer palette.  One of the main design reasons for creating the tall meadow was that it provided privacy for a porch and garden, from a nearby road.
This planting changed with the seasons.  As it changed, the feeling of the porch and garden changed.  In the winter, you could see the roads and into nearby wheat fields.  In the spring, as perennials and grasses emerged, a gossamer film of privacy slowly obscured the roads.   By late summer, the yard and garden was a private oasis with a wall of meadow.
To keep it in check, I used a tractor with a huge mover (called a bushhog).  Hence, my big meadow became the "bushhog border." (The bushhog ran 3 times a year; late spring and summer, we cut things high, just tipping plants while in February, we cut every thing to 6 inches or less.  In both cases leaving all residue on the ground.)
Most of the plants we used in this giant meadow were fairly typical meadow plants.  But one added unparalleled springtime flower drama, rock solid reliability and a unique sense of southernness.  The Orange River Lily.
I've seen this lily naturalized in coastal ditches on our islands, in barely kept old cemeteries and along railroad tracks that sometimes burn and sometimes get herbicide spray.
3 foot tall, thick flowers in pink, white and stripes erupt in late March and April, when fragile blue eye grass, bluestar and toad flax make fine little flowers.  May rains keep it going.  In June, it's steel blue leaves curl out and weave with fine textured grasses.
And, as summer grasses and hibiscus get tall, Orange River lily does what it does in the wild marshy meadows of it's homeland; it goes into hiding. All those tall summer things cover it up, the blue leaves keep growing, it doesn't go dormant, but it retreats.  All summer, fall and winter, the lily can be covered up, shaded out, in the background.
In February, the lilies have retreated below ground, and the bushhog border gets cut down low. March brings on tiny spears of grasses growing, blankets of ankle deep, blue flax.  Late spring and early summer brings in the waist high lilies again.  They even seed in, increasing population yearly.
In a sense, we created a hybrid system combining plants of the marshlands along the Orange River in Africa and plants of the riverbanks of coastal South Carolina — using the best plants from both places.
No, these are not the butterfly meadows of magazines.  Thank goodness.  Naturalistic plantings should speak to a place, it's soils, growing season, rain amounts and even the animals, including snakes, that live in that place.  Take a look at the pictures below, which represent 10 years of pictures, growth and change in the bushhog borders.  The most dramatic change is in diversity, from photo 1 (when this was a farm field) to a place that is home to a wide range of animals and plants.