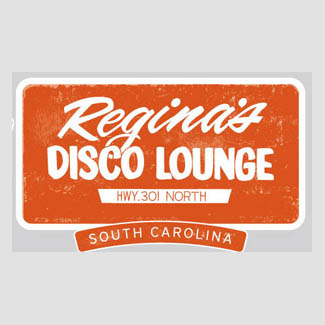 I Will Survive! Flowers for a Disco Queen
When a horticulturist (or anyone) comes up with a new plant, they get to name the plant.  Older, more genteel generations named plants to honor their wives or Alma-matter.  Think of Azalea 'Mrs. G.G. Gerbing' or 'Clemson Spineless' Okra.
When I found a special crinum, I got my first chance at naming. Decades ago, I'd spotted this unique lady; tall, regal and not floppy like so many of similar colors.  I collected bulbs, shared it with other crinum lovers and got their opinion on it.   They confirmed that indeed, it is bigger than normal and not in the nursery trade; she needed a name.
Meet Crinum x gowennii 'Regina's Disco Lounge' — named for the road side night club on Highway 301, Allendale, South Carolina, where she and I met.
Honestly, the "club" was long closed, I spotted the bulb flowering in a trash pile, standing regal over broken glass, dog fennel and  Schlitz Malt Liquor cans.
'Regina's Disco Lounge' Crinum didn't change the horticulture world.  But  she made it into books and is even recognized by England's Royal Horticulture Society Plant Finder and has even grown in the Missouri Botanical Garden — one of America's renowned institutions.
Though it might sound like a rags to riches story for this bulb, no one really knows her origin or how she came to live in a trash pile outside that jukejoint in Allendale, South Carolina.  Highway 301 was sort of the Route 66 of the east coast— famous and well traveled, filled with motor court motels, palm trees and connecting 1950's car culture of the north to the sunshine of Florida.  She could have hitched a ride from Florida or she could have been a chance seedling from a plant lovers garden.
Allendale claims her.  When one of my Momma's friends, president of the Allendale Ladies Afternoon Reading Club, heard about this bulb's hometown roots, they asked me to come to a meeting to give a little presentation.
After lunch and with coffee in demitasse, one of the hostesses stood to introduce me.  Instead, she clawed around then finally said her notes on me had slid down into her panty hose. Gentlemanly,  I jumped in, gave a short lesson on how plants get their names and why that tacky little disco made for a memorable plant name.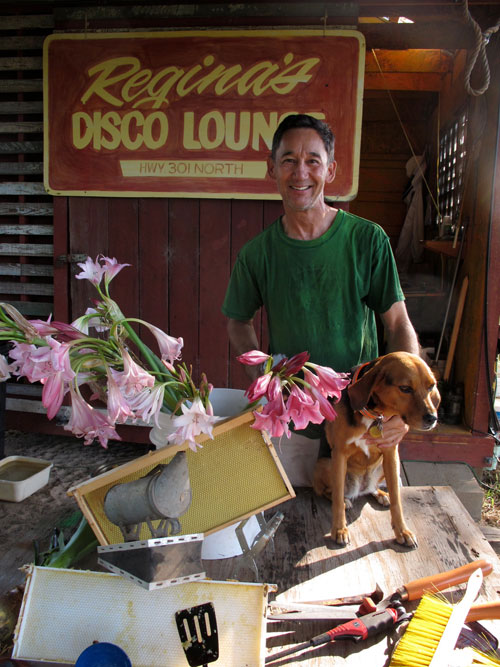 The ladies said they had a little speaker's gift for me.  On cue, Mr. Ben, a husband who'd stayed away from the meeting, walked in dragging behind him the 4 foot by 8 foot, plywood, hand-painted sign from where else, but Regina's Disco Lounge!
Of all the speaker gifts, this one I treasure more than any. It hangs in our crinum shipping shed — at night, a rainbow lighted, flashing disco chandelier keeps it dazzling as the day Regina hung it in her Disco.
Crinum 'Regina's Disco Lounge' honors that little town that so many people drove through, and that lady who had the drive to turn a roadside concrete building in a small southern town, into a cash generating business.  Now, Regina survives in gardens across the United States.