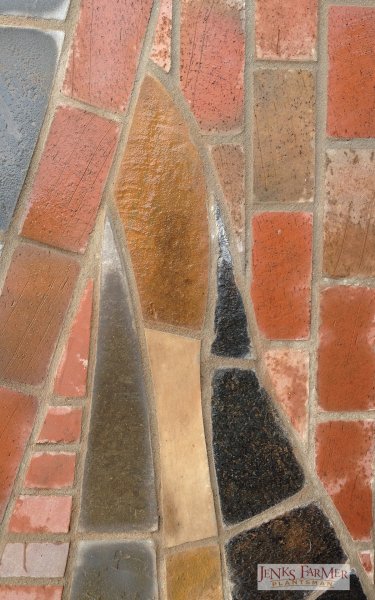 Stone Artistry as the Garden Floor
Nothing like watching a master of his artwork.  I get to orchestrate and feel the energy of carpenters, masons, metal smiths on projects all working toward a shared goal– garden making.   Watching can be mesmerizing.  Do you know the phrase, "the eroticism of competence"?  Those on a mission to make, to create, have the energy.  It's even more intense when they're making structures to become the frame for my art of making plants to smother, drop things on, stain and wrestle back to earth the things the other guys build.  That's garden making.  It's a wrestling, tangling, fitting together the details and proportion of the structures with the perfect plants so that two things will complement and challenge each other.
Luckily over the years, meeting and working with true craftsman has been part of my life.  But it often leaves us with piles of stuff; broken beautiful bits, handsome strong cut ends, shiny shards and ringlets.  Stone, wood, metal, glass or pipe pieces too handsome to let go. Over the past few weeks, Jefferson Hubble has taken all the remnant stone of our various projects and put them together as an elaborate welcome mat for our humble barn. Yeah, I know, it's just the front of an old cypress barn, but now it's home to refugee rocks and the mission of my mason friend.   And  I can't wait to plant around it….
I'm proud to be a part of the American College of Building Arts weekend celebration of Masters of the Building Arts on Saturday, March 29 in Charleston, SC.