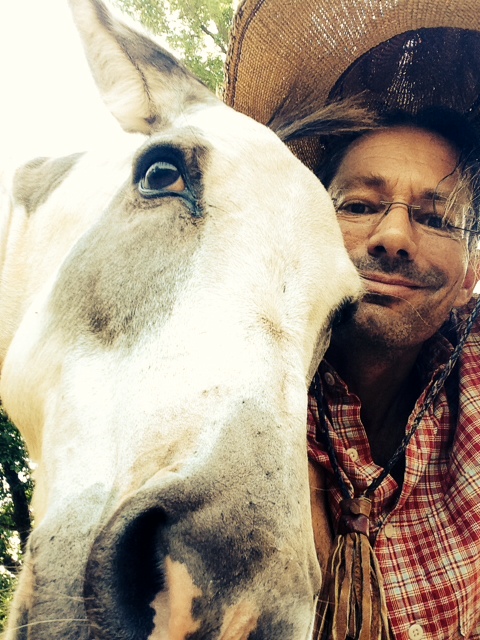 Garden Things to Do in the Heat; Capture Summer's Energy
Gardening work gets rearranged around here when the afternoons get really hot.
Rearranged; not stopped.  Gardening must go on.  In fact, contrary to lots of gardening media and advice, it should go on. Think about it from an energy standpoint: this is peak production time.  As on rainy days, there are some things that work better in the heat.  Work in the cool or revel in the humidity and heat.  I happen to love being sweaty and dirty.  And I love that I get to use, a few times a day,  the well-water cold shower on the back of barn.
Here are six things that we do in hot weather on the farm and in clients' gardens;
1.  Plant things that like hot soil:  On the farm, that means mostly sub tropical bulbs.  So we're planting hundreds of tiny seedlings of crinum, divided hymenocallis and amaryllis.  Row after row after row.
In gardens, we're planting voodoo lily, daylilies, pink rain lilies and Mexican hat lily (Echiandia) Here's a list of perennials to plant now for late summer or fall interest:  Crinum 'Pink Trumpet', 'American Maid', 'Summer Nocturne',   'White Fluff'.  Other perennials include:   Gomphrena 'Fireworks', Kniphofia  'Riverbanks' and lots of early flowering mums.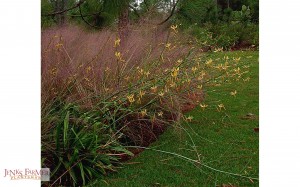 The cool thing about dividing certain perennials now is that they'll actually grow and make a nice fall show.  Of course, it all depends on upkeep and watering through the next few weeks.
2.  Sow Seeds of Summer Annuals:   We're putting in green cover crops which work the soil, provide shade to new small plants and act as a living mulch, keeping down weeds.  This week, we've added 'Colossal' peas, Virginia peanuts, orange cosmos, zinnia, basil and papaya.    All love hot weather.
Here's a list of annuals you can sow now for fall interest:  cosmos and zinnia, gomphrena, salvia, Nicotiana (I'm trying Parks Whopper, Talinum 'Kingwood Gold') Purple Hyacinth Bean, Annual Datura,   Note: most of these take about 8-10 weeks to flower. And if you just want to cover some space, gourds.
3. Train Woody Plants to Do What You Want Them To Do:   Use shrubs summer energy to make them do what you want them to do instead of fighting them.  Trying to establish a hedge?  Instead of planting too closely to fill the gaps, bend new, long branches down and tie them to branches from the next shrub.   Pulling the branches horizontally stimulates new growth upward, thereby filling the gap and creating a more dense hedge.  I'm doing this with yaupons and podocarpus and recently showed a friend how to do it with a dwarf blueberry hedge.  In a garden design project, we're training a weeping cypress up a pole, so next year, it will make a tall, upright cascade.
 5. Target Your Fertilizer Applications:   We use only seaweed fertilizer, a liquid, and it only gets applied to things that need it.  Okra, some crinum, seedlings  You can do it with one of those plastic hose end sprayers.   Just squirt everything down in the morning or evening–everything that needs fertilizer. Remember, everything doesn't need a push from fertilizer.  Why oh why would we want to fertilize the lawn which is already growing too much and already needing too much mowing?   It's okay for that lawn or some other plants to be kind of puny looking right now.  (Also, I use spray paint to miraculously cover up the offensive brand name of that hose end sprayer.)  Fertilize but only where you need it.
6.  Make Compost:  It happens faster in the summer.  We have lots of veggie scraps this year; to them, we add a bit of hay and green leaves for more nitrogen.   I've planted several plants strictly for that, including castor bean and a mucuna vine.   (We also do Bokashi composting, which happens in the kitchen.  Read about that in Deep Rooted Wisdom, and you can get supplies from Gardener's Out post if you are near Columbia, SC.)
FINALLY:   I spent a few hot hours clearing out a row of Crinum 'Cecil Houdyshel' this week.   The row needs composting and replanting with peanuts for rejuvenation.  So the bulbs are on a great sale, about $7 each (4 pack for $27.50)– the cheapest I've ever sold a crinum.   Look in our sales page for this weekend only special.