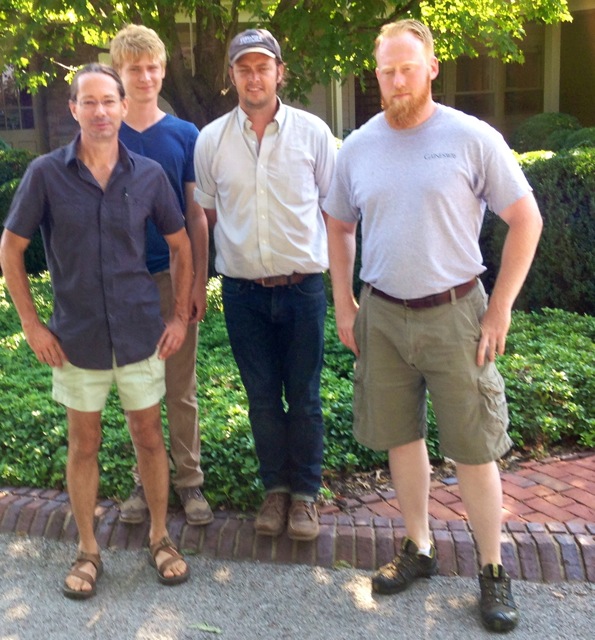 They're Like Southerners but with Funny Accents
We've been on some pretty exciting trips this summer.  A flight to do a reading at the famed Barnes Foundation in Philadelphia included staying in a house that was recently featured in the New York Times. The road trip to lecture at the U.S. Botanical Garden ended with a tour of some extraordinary private gardens in Maryland.
So it was a big surprise to me to hear our summer intern Isaac say that this was the best trip yet. Ohio.  Ohio? When I looked at him and said, "I think that's funny", he didn't get it.   A road trip to Ohio sounds deadly to lots of people.
Getting there does include one of the most spectacular forest drives in the country through the Smokey Mountain National Park between Asheville and Knoxville.   But that's just 2 of the 8 hours which included slaw (best option) at A&W and ended in a Microtel near Lexington. With it's single dim light bulb and full wall smoky mirror over the beds, Isaac said it was an "after prom kind of place." $68 with AARP discount.
8 a.m and we met Joseph Hillenmeyer who comes from a long line of esteemed horticulturists. He'd offered to get us into and show us around Gainesway Farms. Joseph is a young guy, enthusiastic, thrilled to be doing cool plants stuff like going to Japan with some of horticulture's elite and knowing the full time staff horticulturalists at this stunning  horse farm/arboretum.  Like good southern boys, they immediately started picking on each other about idiosyncrasies. You planted what?  Are you ever going to get a truck? Really, I think that tiny spade can do the job?
The elegant farm is on the best of Kentucky bluegrass land and sends racing horses around the globe. Non-pasture land includes an arboretum.  Um,  really serious stuff like 30 acre fields of dozens of different oak species. The place is amazing; the wealth, the plants, the list of important horses,  the excess.  For the owners wife's birthday, they built a cute little country store restaurant where we got coffee and real croissants. The ribbing continued, but the collaboration obviously pays off— the place has an adorable kitchen garden planted in antique troughs scavaged from the farms barns.
Nothing cheesy mind you. This is the last garden in the US that the esteemed English gardener Rosemary Verey designed and planted.  That garden is right down the Catalpa lane but, generally, off limits without prior approval.
Guys who make these sorts of gardens know other guys.  So I like to be flexible on these trips.   Phil Douglas, curator of Gainesway, called his friend at Spring Grove Cemetery, and we were off to that Victorian graveyard which is full of Ohio state record trees in Cincinnati.
It was fashionable in the late 1800's for cemeteries to be gardens, parks and places to picnic. Today, places like Spring Grove, Oakland in Atlanta and others have rekindled the connection. Brian gave us a front seat pick up tour of this 300 plus acre place.  He steered with one arm, thick with golden fur, draped over the steering wheel and pointed with the other, "Look, there's the Spring Grove dogwood. You know that selection right? This used to be the national record Kadsura tree. There are the controversial Sponge Bob Square Pants grave stones. And oh, you want to see how we manage it? Check out this I-pad with live map showing trees, utilities and who lives where."   He had that crisp, clear pronunciation of Ohioans that sometimes makes me wonder if they feel compelled, if they're trying to speak clearly, so you're sure to understand. It can seem simultaneously sexy and condescending. But it's just their accent.  When his phone chimed and he made plans for his boy's baseball game, it was the same; so not put on for us.  I loved that he said, "We're careful, we don't plant weed trees, but we put natives and exotics in the ground here."   "Show me the grave of a native", I thought, "the names I see are all European."
The carillon went off at 4 playing "Summer Lovin" from Grease.   We were overlooking the waterfall, it's been running a hundred years, and the serene ponds, but I kept seeing Oliva Newton John.  Time to head out;  Isaac and I made a quick architectural stop through Cincinnati's art-deco Union Station, had lunch at Fountain Square (sorry y'all, it might be tasty but no commercial beef chili for me) and arrived just in time for dinner, a few hours away, at our host house in Bowling Green, Ohio.
These guys made us feel right at home. Gardeners, food lovers, activist, Gloria and Chris Gajewicz even have a blog on remodeling and refurbishing their mid-century home (sunken bath tubs!)
The second day of the trip included a garden walk at Simpson Garden Park. This garden park, sort of like a community food garden, is mainly run with volunteers who have lots and lots of input. It's open 24 hours a day, and visitors may not even be there for plant stuff but for bike rides, dog walks or secret rendezvous.
An afternoon presentation to mostly Ohio Master Gardeners was very laid back, big circle sort of discussion, a walk in the garden, lots of talk about the Crinum collection in the garden (5 varieties have made it in this zone 5, northern Ohio garden) and some book and crinum sales, too.   More garden tours, a nap and that evening another slide presentation as keynote speaker for the Kuebec Form on Nature & Environment.  The mayor of Bowling Green and his wife– she's a volunteer who keeps up a garden in the garden park– came! He wore seersucker in honor of the Southerners.  Bowling Green is a small town, a great place to raise a family and lots of the same people came to each event.
The day ended about 10 with quiet conversations back at the ranch.
Sunday, we had time to explore. We saw a great lake (Erie, just south of Toledo; they have seashells!) Took a drive through Toledo where we saw more people of color than we'd seen since we left the south.  After being on outlandishly planted horse farms, luxury cemeteries, bucolic college towns, we got to see a bit of real rust belt poverty.  We just drove through and arrived in Ann Arbor for lunch.
For Isaac, this was time to meet in real life, an internet friend. For me, bookstores.   But a friendly book store clerk, said, "Hey (well probably she didn't say "hey".) since you like Jim Harrison, you should go to Zingerman's Deli — he writes about it.   But don't go to the deli itself; next door is a little house where they serve pastries, sandwiches and coffee. It's cheaper and faster."  Which I did. I appreciate literary travel stops and that sort of thoughtful instruction on how to enjoy a town.   I read from John Water's new book at Zingerman's and decided, since the rhubarb pie and coffee cost an astounding $12.60, I'd keep my table a while and use this as a place to meet Isaac and later my friend Lindsey Kerr.
Lindsey is a personal friend and a professional contact. She's worked with Pearl Fryar,  just finished the Longwood Graduate Program, had come in from a Denver APG meeting that morning but still had the energy to walk around town with us, showing us a cool garden center/farm store, the University of Michigan campus and giving us a history of how what used to be a funky town has gentrified.
Back to Bowling Green by 7 for a book reading at Grounds for Thought coffee house. A small group, but really into it — the discussions wouldn't stop.   A biochemist, who suggested I'd get into the book Capital In the 21st Century  (got it), a biologist who's having a paper published on lupine pollination by bumble bees, and a woman, who's stolen a bit of Clivia from Mao's tomb, crowded around. All of them eager to relate things in Deep Rooted Wisdom to their expertise. The biologist was a solid, handsome fella who spent spring on his knees, pollinating lupines and wrapping the flowers in little bags made of bridal veil.  I wondered how hand pollinating compared to bumble bee pollination and if he might be drawing some bad conclusions.  "Oh, I used dead bumble bees to do the pollination. And yeah, it would make a difference as the texture of say a paint brush may be very different from the thorax of a bee and the flower may react differently to it."
An internet friend of mine drove two hours from Cleveland for this reading of Deep Rooted Wisdom. Our first time meeting had to be more than the reading. We went for middle Eastern food. In the dark parking lot afterward, he gave me hunks of colorful glass. "There was a steel worker in my neighborhood who thought this glass, a by product of the steel mill, was pretty. So he brought home chunks. For decades. When he died, the real estate company was going to bull doze it all away so I got some." The idea of burly, dirty, worn out man in a forge, stopping to bring home a pretty rock for his garden charmed me.
We also made a quick stop for our host. They'd spotted a mid-century couch behind a dumpster.   Comfy, I tested it out, but a bit too far gone for reasonable refurbishing. And at ten p.m., which seemed too late for polite visits,  we stopped by the lady's house to get a potted plant of the Clivia plucked from Moa's tomb in the early 80's and thriving in Bowling Green, Ohio — equally great for raising illegal plants or a family.
Monday by 5:15, Isaac and I were on the road to Ohio State University. I checked out the Chadwick Arboretum while he had a guided tour of the Landscape Architecture department. Lunch was a selection of fine macaroon, steel forge black coffee in a Parisian pastry shop in German town, and we were on the road again. A quick drive through Athens to see the beautifully placed Ohio University and a walk in the nursery section of the Charleston, West Virginia, farmers market broke the 10 hours home.
It was the best trip ever, and here's why: everyone we met wanted to share their world and relate it to ours. The details, the differences and the commonality. Both, Ohio and South Carolina are often under appreciated. We wanted to hear the details, to relate it to our lives, and we never even thought of the term "fly over state" or the country music songs that make fun of Ohio. We were there to learn and see.   Every person we ran into sure taught and shared. The people we met had a shared sensibility.  I don' t know if it has to do with rural roots, or being into plants, or being from a flown over state.  But I decided, they're pretty much like Southerners, those Mid-Westerners, but they speak so clearly that it seems like work.  And they want to call me "Janks."