From the minute we knocked on her door, we laughed.  I took a friend from up north to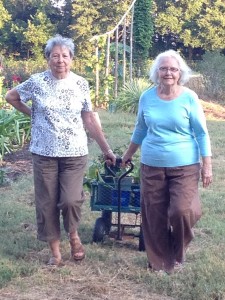 visit a friend in Georgia last week.  Ostensibly, we went to see her garden.   We knocked, she greeted.  But since we were a few minutes early she said,  "Walk around the front garden and I'll be right back.  I have to put my pillows out."   OK.  What?  Seriously?  Sweet.
Did it really take me this many decades to realize which is the more important word in the phrase garden visiting?  Do I have to go on about how cad-ish I might have been in the past, just looking at plants, taking pictures and cuttings?    This sweet friend reminded me that we were going to sit and all things are going to be right for this moment; we're going to share the world just as she, we, wants it to be.
Sure enough, minutes later we looked up to see scarlet pillows in black rockers all ready and welcoming, we could come into the garden and visit.
I though about all the evenings Momma says to me, 'Come and look at the garden with me.'  I'll do it every time from now on.  I'll focus on something other than what to do about the bugs on the turnips.   And I know that every time my friend from up north needs a moment to gather his thoughts, to get things just right, he'll say, 'Wait a minute please, I have to put my pillows out.'
You can see the gardens and the pillows on Augusta's fall garden tour by emailing [email protected] for your $10 ticket.