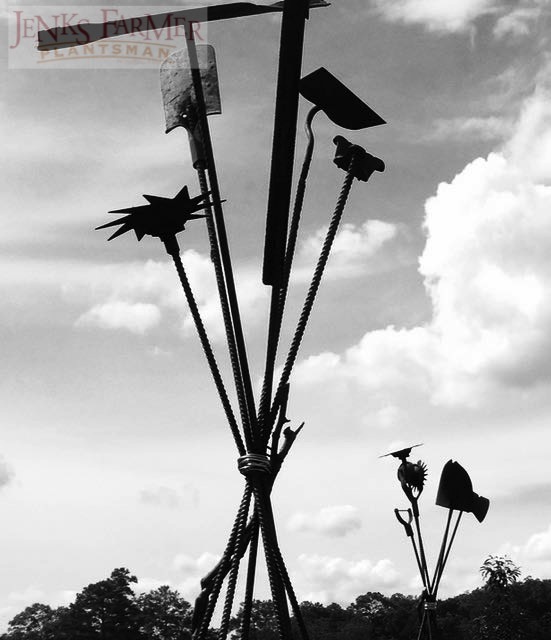 Planting a Perennial Border for Hospice Cut Flowers
Linda has a cool story.  She's cared for her parents, worked a lot and ready to retire.  But not ready to slow down.  So she bought a little farm house at the edge of booming suburbs and is planning a cut flower operation– specifically to give cut flowers to local hospice centers.
She's into nutrition, wants to keep it organic and even offer classes and gatherings in the garden.
I planned the plants.  Collin did some cool welded sculptures of rebar and old farm tools.  Here's a quick video of the installation.  And below that is a partial plant list of easy care, excellent cut flowers for the hottest parts of South Carolina.
We included about a dozen perennials, foliage plants, and flowers, of course; most provide both:
Salvia x 'Jenks Farmer' &  'Henry Duelberg'
Achellia 'Summer Pastels'
Crinum 'Claude Davis'
Prunus mume 'Omoi-no-mama'
Baptisia x 'Carolina Moonlight'
Pennisetum 'Princes Molly'
And since this was a fall planting, we over seeded with larkspur and scarlet frills mustard.  We'll come back later to plant Leucojum and other perennial bulbs.