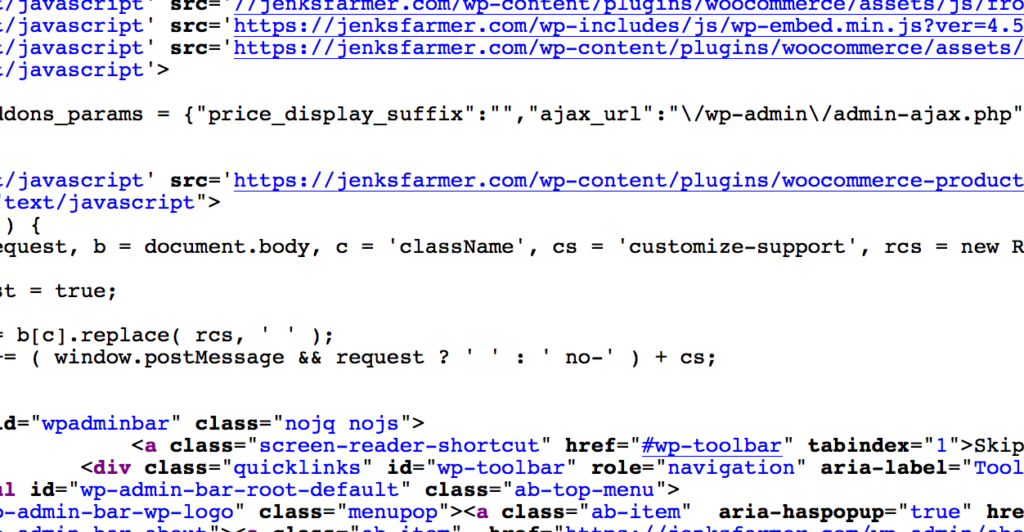 The Otherside of the Web Page
I'd like to introduce you to three fellas who keep our website running. They are important in our life. And in your life too. Without the guys who do tedious, frustrating and creative web stuff, I couldn't focus on growing good bulbs, nor could you read about or buy them for your garden.
What's behind the web as we know it is crazy complicated.  For example, in web guy world, the chicken scratch below means something. Click on it to see where it leads, what it means in normal people world.
You don't want to look too closely at what they do. But you do want to look at the handsome, creative types that keep our shopping, advice and plants looking good. Probably, you see them hunkered over laptops at coffee shops.  That's where I often meet them, me dirty and drenched, them trying to make me look good via the web.
The people behind our lily farm web world don't get enough praise. There are no dramatic pictures of them. No poems or songs. But they get it; they share the love of earth, dirt and plants. They use their technology and taste to make finding great plants fun and easy for you too.
Hunter Desportes manages the backside of our web page. I can't tell you what he does exactly. But I can say "Hunter, make this one on sale and that one show up on the google map.'" And it does.  But Hunter also does rock and roll photography. He's working on an Alice Cooper project today. He sells originals of David Bowie and he spends evenings photographing the up and coming bands. His own site is a fun one to click around for rock memories and is full of his fascination with nature. Check out  Desportes.com 
You'll find lots of stuff like this:
When Hunter and I met, he was stationed in Copenhagen, making databases for the World Health Organization. We were technology early adapters, working across the ocean to make our nursery one of the earliest to sell plants on the web.  Hunter has created databases for Moore Botanical Garden and is working to make Historic Columbia Foundation the only publicly funded garden in South Carolina to offer access to a plant database on the web.
Kevin Sharp is behind the scenes in a different way. Kevin does technology, but it's his eye, his taste, his innate love of people that sets the look, the feel, even the words of our web page.  For bigger companies, he does production of video commercials. His company manages our publications such as the the upcoming Gardening with Crinum Lilies 3. Kevin and his apprentice, young Kevin, also keep things fresh.  For example, right now they are going through every word of our web site, every product and click, to make sure things are updated. (obviously, I don't always have time to correct the slew of problems they point out.)
Kevin's is a full scope production company.  They can work with anyone from tractor driving civil engineers to yoga studios, nuns and lily farms. Here's a link to a comprehensive project on their web site:  Artisan Creative Group.  In their Augusta, GA offices, they make videos, a passion of Kevin's.  In the past, Kevin lived in France,working for the American  film industry to ensure that translations, turns of phrase and even clothing were accurate and real. That's what a production company does; keeps things real but highlights the story, the sex appeal and sometimes the sweat.
Photography stresses me. So photographer Patrick Beisman visits the farm, before dawn, after dusk, whatever time is best to capture the spirit. You've seen his garden and lily pictures.  The contrast to some of his industrial work is startling and beautiful. He does portraits, homes and events too. Sometimes, like for the photo below, Patrick has to work really hard to make us look good.
There are lots of other people who make our lily farm work and speak. We're lucky to have personal friendships with them and to know they are dedicated to sharing this farm and this message of caring for the earth.