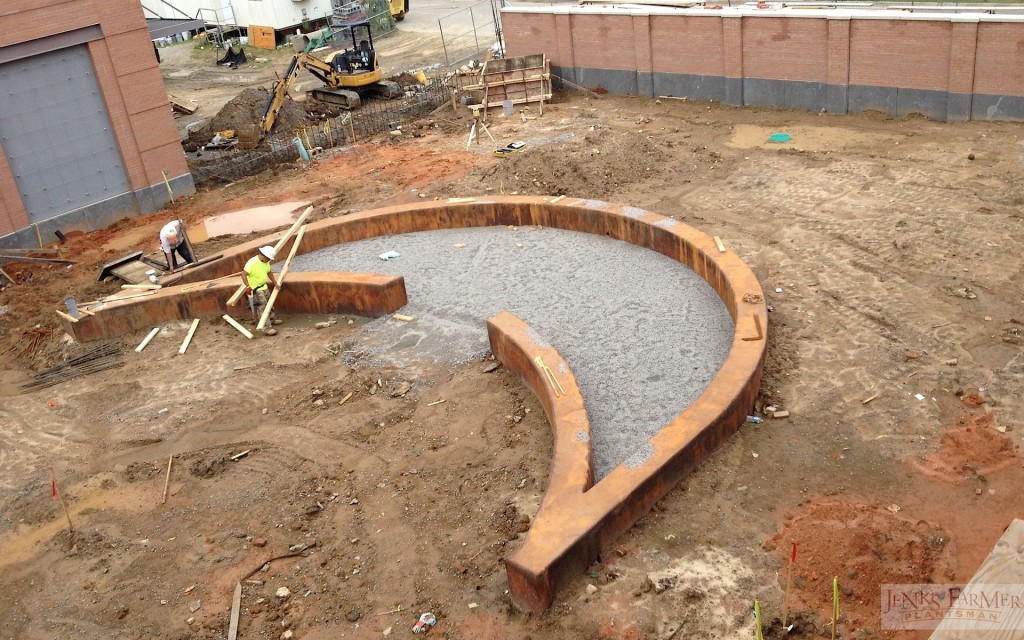 Artisans, Craftsmen and the Foundations of Garden Design
Sometimes I felt as if I was torn between being a scientist and an artist.  So I compromised and became a horticulturist.
—  from the design chapter, Finding The Spirit, of Deep Rooted Wisdom, ….

I'm too dirty to make gardeny-decorator things that look neat on Pinterest. Sure I can make cool stuff from left over bamboo, rocks and dried okra. I just can't install it in the house. I'd ruin the carpet in the process of adorning the mantel. I'd leave a trail of pinestraw or smudge the paint.  I keep a bottle of Dawn dishsoap in my shower; for me and the kinds of guys I hang around with.
A lot of people in my profession top off their income by doing domestic stuff. These lifestyler types make wreaths, throw nifty parties and cook, using produce from the garden. It's a connection thing that customers love. It's bringing the garden and it's stories inside;  to delight, entertain and nourish.
But since clients with clean houses prefer to keep me on the porch, I branched out in a different way.  I learned to work with tradesmen and artist who can engineer and  build garden foundations that I dream up.  I learned a lot about possibilities and I learned a lot about the art of working with artsy people.
Don't think I didn't try the other way.  Back in the sweltering August of 1989, I dabbled in the lucrative world of decorating.  In a giant, hot warehouse full of ornaments and fake trees,  I was  assistant boy to a decorating queen.
There were two good things about this deal. First was the tall, sexy grandson of the owner.  He and I would tag each tree then line them up like soldiers, by delivery date, to wait at the loading dock door. I looked forward to early December days, riding around in the delivery van with him.
The second good thing was the owner himself–old Mr. Taylor. Remember that even as recently as the 80s, nurseries didn't sell things in a million plastic pots as they do today. To sell pansies or cabbage or such, Mr. Taylor taught me how to start pansy seeds outside, in raised beds. He taught me how to harvest them, bare-root and roll them into tidy, wet newspaper bundles. A deal; $2.50 for 50 little pansies plants and no landfill plastic.
Pansies nor sparkling trees would survive the wrath of our biggest hurricane ever on Oct. 3, 1989.  Hugo ruined the trees and the pansies. But I would thrive after Hugo.  I woke up in a different, magical world.  It was a turning point as I was free of decorating fake trees and literally submerged in real trees. And within the day, I was on a clean up team, surrounded by rescue workers.  People who knew how to lay the foundations for clean up.  People who worked like Trojans to get the world back to normal.
We'd sleep in the truck, and every morning coordinators at the Red Cross tent gave Daddy and me breakfast and an assignment.  We'd spend all day chain sawing live oaks out of people's living rooms or trying to get a bridge passable.  I was still someone's assistant.  But I was assisting people who had volunteered their skills, muscles and minds to help bring strangers' worlds back to normal.
There were also the visionaries who saw through the chaos, got people going and somehow managed to feed and inspire. I was surrounded by the power, in an upturned forest and the power of these visionaries.
For twenty years since, I've been able to combine the power of the natural world and of visionary builders to make gardens. This is how I branched out of gardening, still centered in horticulture. Garden design requires a big vision, an idea of what will be normal for someone, way down the road.  And it requires inspiring people who can engineer and build the parts.  Masons, carpenters, smiths and all sorts of artists make the floor, walls and fountains that I get to plant.
I like to work with people who are as passionate about their art as I am about mine.  So I seek them out. I explain that vision, then I ask how they can do this best; what's best, creative, cool from their experiences.  How can your art be a cool detail that brings this place to life?
Just last week I was in a garden I did years ago where I got to check up on how things had grown in. A dark slate floor with light gray grout too pretty to cover with a rug, surrounded by walls of hairy trunked windmill palms. The current owners, not the ones who commissioned it, loved the space. The whole thing is so inviting and subtle that you want to sit on the perfect stone, crane your neck and be mesmerized by sunlight twinkling through palm leaves.
Maybe no one but me recalls the back story, the slow, slow mason who agonized over every mortar joint or the planting of hairy, prickly palms in the rain.  But the story is there, it's part of the garden.
Make an effort to see the current project at Hampton Preston House in Columbia, SC. I got to pull in a local carpenter, steel guy and mason to shine. The fountain is the most amazing thing, though overshadowed by the steel gazebo. When I told old mason Hubble my plan, he shook his head and looked down.  He did that a lot, 'you can't do that, people will trip, do you understand water won't run like that?" The next morning he had a sketch; more than that, he had a plan and a poem and was ready to make it flow.
The choice I made to stay dirty, to work with the dirty guys was right for me. We may never know the stories of the people who live in them, but for a while, during dreaming and construction, these are places we pull together the  our gardens,
Here's a fun video of a recent project: