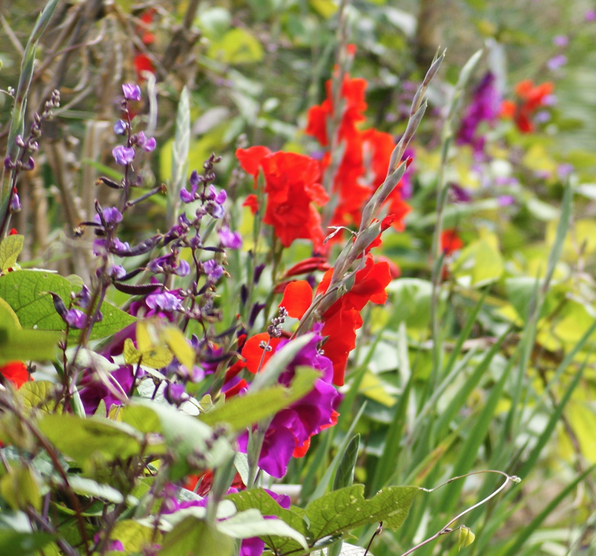 Gardening, painting, sculpting. Those things have something in common– they all start with imagination of something you'll bring to fruition. A vision.
Sometimes these really hot days make me have visions.  Stifling hot. Swooningly hot. I chop some crinum down to the ground; it'll be fine by fall, I think to myself. I weed, pulling one crabgrass after the other and drift into a vision — over this very field floats a dreamy cool fall fog.  Instead of weeds, under searing sun, there's a swarm of purple and burgundy butterflies. Maybe that is purple and burgundy gomphrena. I see big pale yellow stars bouncing through and solid, tall dark green okra plants standing tall. That's the composition. Of the garden, of the walk-in painting.
There's a concept too: it's wild. Wild enough to make the point that control and formality in gardens belongs in the past.  Wild enough to attract iridescent wasp, green bottle flies and orange spotted buckeyes and skippers. The concept is that this garden is as much for them as it is for us.  The statement, the bullet points read: lawn chemicals and mosquito fogging systems kill. They kill what we should feel compelled to protect.
After the concept and the composition, I consider the materials, the rate of growth, the sources. Purple and rust gomphrena and yellow ablemoschus goes in as small plants. Glad's go in as bare bulbs. Everything gets super thrived. Red zinnia and burgundy cockscomb gets seeded in, compressed by farm-boy feet in Chaco sandals. No it's not to late for any of this — it's the perfect time if you're making a fall painting.
Think about it another way, it's kind of performance art.  No matter how much we encourage it, the whims of nature, a fall hurricane or swarm of locust could derail the whole thing. And each guest to the farm will see a different scene as plants flop and weave and go to seeds over the weeks.
In another field, we're dividing crinum, planting tons of gladiolus and seeding in golden cosmos. We've already put in our nitrogen fixing cover crops — Sea Island Red Peas this year. And this week we planted low growing ground covering sweet potatoes.
All the color is for pollinators and guests. The art of gardening requires a vision, thinking, planning and for me, not for everybody, making a statement.
*If you like this sort of writing, these stories that include southern gardening tips, please read my new book, Funky Little Flower Farm.